HNTB Transfer Instructions
All transferred files remain on the system for 15 days and are then purged.
** HNTB Guests **
When sending secure package files click the To: button to see a list of recipients. When an HNTB employee sends you a package or message through the HNTB Transfer site they will be added to your recipients list.
** HNTB Employees **
When sending secure packages to other HNTB Employees use only their username in the recipient field,  not their full e-mail address.  (Recipient: jdoe  and not jdoe@hntb.com)
For external recipients use their full e-mail address.  (Recipient: Client@domain.com)
Getting Started
1. Use your web browser to navigate to http://hntbtransfer.hntb.com.
2. Enter your HNTB username and password, or a username and password that are provided to you, and click Sign On.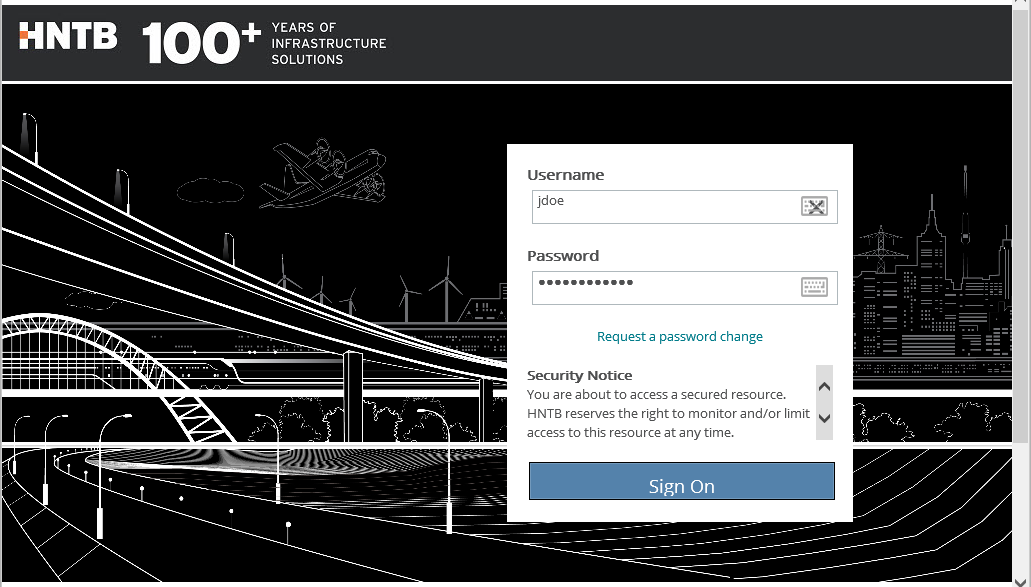 (NOTE: You will be prompted to install either the ActiveX or Java control for the site. This can also be done through My Account.)
3. Upon login, you will be directed to the Homepage.  From the Homepage screen, you can send a new package, or you can use the table in the left-hand field to navigate through the site:
· Home – Navigates to the HNTB Movelt DMZ Homepage
· Packages – View, delete, or compose messages/uploads
· Logs – View a record of previous actions and/or messages
· Tech Support – Contact information for assistance, and basic site information
· FTP User Guide – Link to this Instructional guide
Composing a Package
While in the Homepage or Packages tab, you will be able to create a new message.
** If the recipient is an HNTB Employee only use their username not the full e-mail address. For external recipients use the full e-mail address.
1. Enter the recipient information, in the box labeled To: use a comma to separate multiple recipients.
a) Non-HNTB employees will only be able to select people who have previously sent files/messages to them from the site.
(NOTE:  Messages without a subject line or text in the Note field will not send)
2. When entering an external client for the first time, the system will create the client account to allow them to send and receive files with HNTB users.
(NOTE: Once the email is sent, the external user will receive a link to the HNTB Transfer site and a message with their username and password.)
3. To add additional recipients, select To, CC, or BCC and select a previously messaged user or type in the HNTB username or client e-mail address. 
(NOTE:  Alternatively, you may also type a name, email address, or a username in the –Search – box.  Select the box(es) next to the username(s) and select "OK" to add them to the recipients list.)
Adding an Attachment
1. Add a document or file by selecting "Click Here to Launch the Upload/Download Wizard"  at the bottom of the message.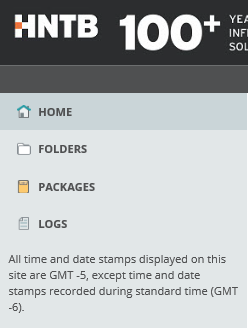 2. When directed to the "Upload Attachment" screen, click Add File or Add Folder, then select the item to attach by navigating to it and double clicking it or selecting and and clicking "open". 
3. Click Next and you will have the final options to zip the file(s) or upload file(s) individually, make your selection, click Next and  your message will be uploaded and show in the "Files" section at the bottom of the message screen.  After attaching the document, the entire message may be sent, previewed, saved as draft or cancelled from this screen.

Logging Off
Click Sign Out at the top right of any screen to log out when you are finished with Movelt DMZ.